I've been pretty uninspired when it comes to excellent baby snacks for on-the-move. The stuff being offered on the store shelves is generally sugary, heavily processed or just down-right expensive. Bo is getting to an age now where she likes to have something to snack on. It keeps her busy in the trolley when we are in the supermarket. It keeps her from trying to climb out of the trolley when I'm attempting to run errands… and during the day at home it satisfies her between meals.
I love trail mix. Fell in love with the concept when I spent a summer on canoe trip in Canada. Such a great way to encourage healthy grazing at times when otherwise you (I) too easily turn to your (my) sugary weaknesses.
I did a search online to see if I could find some inspiration for baby-friendly trail mix, but all my search unearthed was lots of blogs and websites giving kid-snack recipes that were filled with sugary cereals, processed crackers, chocolates and candies with a sprinkling of nuts and dried fruit. So, I did a bit of research of my own. I tried a bunch of different products with Bo, and came up with some great options for baby safe (read: toddler – please don't go giving this to a baby who isn't ready) trail mix. I use my pantry ingredients as a base and then add some fresh stuff to a little air-tight container before we go out, or straight into the bowl if serving at home.
Pantry ingredients (can be pre-mixed and stored in an airtight container)
– Puffed corn
– Puffed rice
– Dried fruit (sultanas, raisins, whatever your baby is ready for)
Fresh ingredients (to be mixed in before served)
– Any kind of berry (blue berries are a favourite here)
– Grated cheese
– Peas
– Drained and dried chickpeas and/or beans
Other pantry ingredients (that I will incorporate when she gets a bit bigger and can handle them)
– Homemade sweet potato crisps
– Homemade kale/spinach crisps
– Nuts
– Shaved coconut
– Seeds (pumpkin, sunflower etc)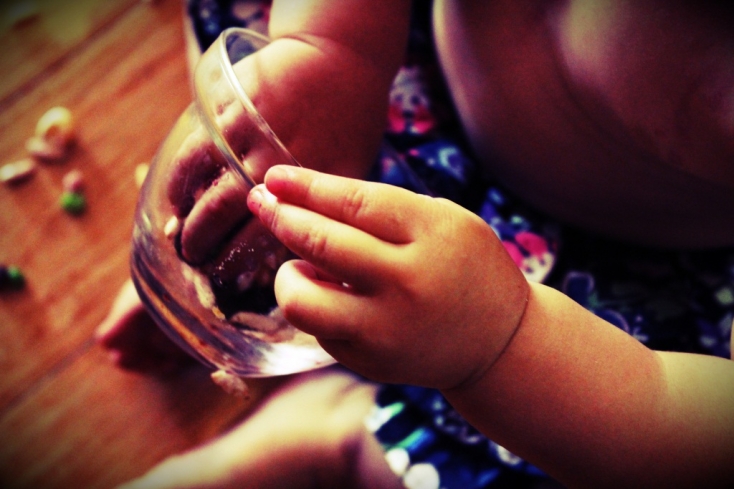 PIN ITBo only has two (and a bit) teeth, so we are still a bit limited with options. Both the puffed corn (NOT popcorn) and puffed rice are excellent pantry-based choices and can be found very cheap in the health food section of major supermarkets. Bo loves them and they both dissolve pretty quickly in your mouth. Once she can handle all the pantry ingredients I will make a big premix to put in the pantry so we can just scoop it out.
It's an excellent mama and baby snack for any time of day… Healthy, affordable, whole food with no added sugar or crap.
Similar Posts: